I am very excited about one of my latest photography accomplishments - my photo of a conch shell on the Jekyll Island beach was bought for use for the College of Coastal Georgia's marketing campaign! Drive around Brunswick, Georgia, and you can spot the ad on several digital and paper billboards...and it's also appearing on the big screen at the movie theater. Pretty darn cool if you ask me!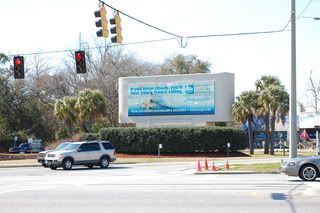 On the "Jumbotron" at the end of the Saint Simons Island Causeway
A paper billboard on 17 South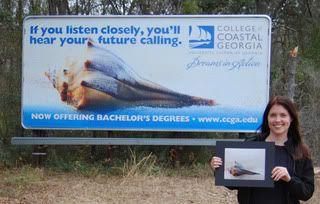 Holding the original photo in front of the billboard down the street from my house
Now you can get a sense for how big the shell is!
I think the paper billboards definitely show off the detail of the shell better than the digital billboards, but I'm not complaining. I love seeing my work on display all over town!